Artists from Teater Interakt (Sweden), Schaumbad – Freies Atelierhaus Graz (Austria) and UpStage (global) are exploring what it means to mobilise and demobilise, through a series of networked performances.
The performances will be presented over the weekend 15-17 October, in the online performance venue UpStage – all accessible to audiences anywhere in the world with an internet connection. Click here for times and live links!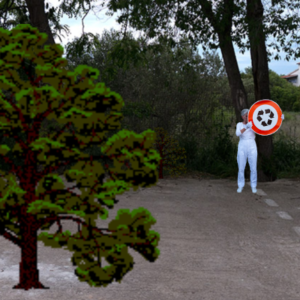 We urgently need to mobilise in response to the many crises facing the world – climate change, migration, attacks on democracy, inequality and so on. Yet we must also urgently demobilise in order to reduce CO2 emissions – fly less, drive less, reduce tourism, live more locally. Demobilisation also refers to disarmament and the de-escalation of conflict. Concurrently, mobile technologies have played a significant role in the increasing human mobility and mobilisation: how is mobile technology impacting on our lives, and is it for the better? The inherent contraditctions and challenges of Mobilise/Demobilise are the subject of a series of interactive online performances and discussions, accessible to European and global audiences.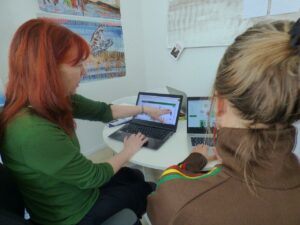 The creative research and devising process has taken place primarily online, using the web-based platform UpStage, where artists collaborate in real time using digital media (audio-visual streams, images, animations, text2speech, live drawing, text, etc) and other digital collaboration tools. At the same time as experimenting with technology to develop new artistic practices, this project critically questions its impact: we have embraced empowering and convenient digital tools, often without considering issues of privacy, security, and the human and environmental costs of the technology. Massive societal shifts – another form of mobilisation – are happening rapidly as a result of human and technical mobilisation. Demobilisation invites us to slow down and consider the wider impacts of this "mobilisation".
The performances will be presented over the weekend of 15-17 October 2021, along with online discussions, for online and proximal audiences. Click here for more information, time converters and live links.
Participating artists
Katharina Aschauer, Manel Ruiz Blas, cym, Parnian Faizi, Alexandra Gschiel, Eva-Maria Gugg, Doris Jauk-Hinz, Anita Hofer, Rebecca Hofer, Helen Varley Jamieson, Sara Larsdotter Hallquist, Jesper Miikman, Cecilia Nkolina, Keyvan Paydar, John-Paul Pochin, Lyn Russell, Sally Shaw, Vicki Smith, Eva Ursprung, Faye Wulff and Karl Wulff.