Mobilise/Demobilise began as an artistic response to a world of increasing conflict, crisis and emergency, before Covid19 lockdowns and travel restrictions forced us to live more and more of our lives online. Since then, issues of human mobility and the impact of mobile technologies have become even more urgent. The unsustainability and inequality of the old "normal" can no longer be ignored, and we must imagine a new way forward. Mobilise/Demobilise brings a critical and artistic perspective to the current crises.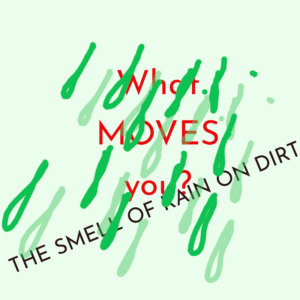 We urgently need to mobilise in response to the many crises facing the world – climate change, migration, attacks on democracy, inequality and so on. Yet we must also urgently demobilise in order to reduce CO2 emissions – fly less, drive less, reduce tourism, live more locally. Demobilisation also refers to disarmament and the de-escalation of conflict. Concurrently, mobile technologies have played a significant role in the increasing human mobility and mobilisation: how is mobile technology impacting on our lives, and is it for the better? The inherent contraditctions and challenges of Mobilise/Demobilise are the subject of a series of interactive online performances and discussions, accessible to European and global audiences.
Process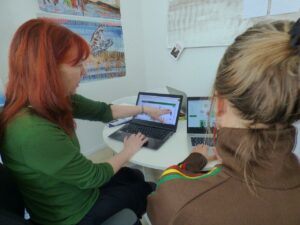 The creative research and devising process are taking place primarily online, using the web-based platform UpStage, where artists collaborate in real time using digital media (audio-visual streams, images, animations, text2speech, live drawing, text, etc) and other digital collaboration tools. At the same time as experimenting with technology to develop new artistic practices, this project critically questions its impact: we have embraced empowering and convenient digital tools, often without considering issues of privacy, security, and the human and environmental costs of the technology. Massive societal shifts – another form of mobilisation – are happening rapidly as a result of human and technical mobilisation. Demobilisation invites us to slow down and consider the wider impacts of this "mobilisation".
Research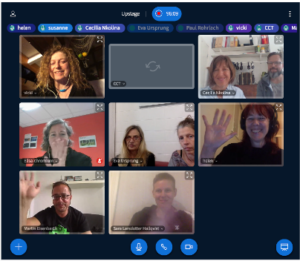 The participating artists in Germany, Austria, Sweden and New Zealand have been researching the broad theme of "mobilise/demobilise" together and individually. Different thematic threads emerged in each locations during 2021. In Graz, the artists asked the public what kind of a city they want, and how might the city look without cars. In Malmo, Teater InterAkt worked with young skaters to understand their perspectives on issues of mobility and the environment. And in Whakatū (Nelson, NZ) the historic shifting of the tideway became a metaphor for the relationship between human expansion and the natural environment.
The ideas of Australian human geographer Lesley Head, in her book "Hope and Grief in the Anthropocene", became particularly important. She explores how our responses to environmental challenges are hampered by solastalgia, grief for a (non-existent) pristine past, within a context where it is often socially unacceptable to grieve. Loss, grief and hope emerged as strong responses to questions of mobility and immobility in the contemporary world – in particular how these concepts relate to climate change and societal upheaval that the world is experiencing.