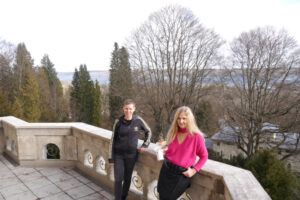 During the first quarter of 2022, Eva Ursprung and Sara Larsdotter Hallqvist have been artists in residence at the Villa Waldberta in Feldafing, near Munich, at the invitation of Magdalena München and the Culture Department of the City of Munich. This has been an important time for reflecting on Mobilise/Demobilise thus far, and planning our next moves for the second half of the project.
As part of the residencies, we have participated in Magdalena München's "Next Moves" series, including the kick-off event and panel discussion, and been part of a group exhibition at the Palmenhaus of the Villa Waldberta. We also presented a performance installation at the Villa, combining research on the history of the Villa and Feldafing with our present situation, ideas from Mobilise/Demobliise, and UpStage.
We will be documenting the residency period on this website soon.
Above, Sara and Eva on the terrace of the Villa Waldberta. Below, presenting Mobilise/Demobilise at the Next Moves Kick-Off event on 12 February 2022.