Here we are, halfway through the festival – in between Mobilise and Demobilise! Each of the three performances has been presented at least once, and the audience response so far has been enthusiastic.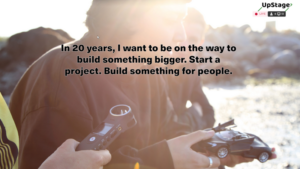 "ReMove" by Teater InterAkt takes us into the hopes and dreams for the future of 19-year-old skateboarder Parnian; their performance today was also part of the Malmö Scenfest, where local Malmö groups can showcase their work.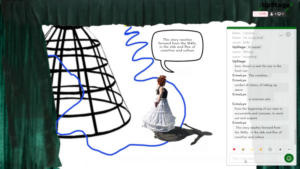 Vicki Smith and collaborators in Aotearoa New Zealand explored shifting tidelines and the factors – environmental and social – that impact on them. A proximal audience in the street answered questions via a live stream.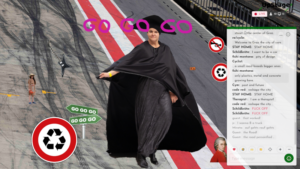 Imagining the city and streets without cars, artists from Schaumbad Freies Atelierhaus Graz occupied carparks, created a digital storm and brought the avatars and images from the performance to life in a grand musical finale.
The festival continues tomorrow, Sunday 17 October, with another performance of each of the three shows as well as a project presentation and performance jam at Schaumbad's Art Brunch in the morning, and a closing discussion in the evening (European time).
Visit the festival programme page for all the times, time converters, and live stage links.