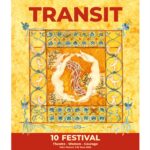 Mobilise/Demobilise was presented at the Transit Festival, Denmark, from 6 to 12 June in the form of an installation. Using animated text, audio and mirrors, the installation created an immersive reflective space that invites contemplation.
What mobilises you?
What displaces you?
What do you mourn for?
What do you yearn for?
Around the world the war machine has been mobilised and billions diverted into armaments, away from other urgent areas. Global military spending has exceeded 2 trillion US dollars for the first time., and the current war in Ukraine has created the fastest displacement crisis since WWII. Against what are we mobilising? How have we become so displaced?
Material for the installation has been gathered during the Next Moves residencies, as well as from recent events and responses from our peers and communities.
Installation concept: Helen Varley Jamieson
Creation: Helen Varley Jamieson and Sara Larsdotter Hallquist
Video animation: Manel Ruiz Blas
Soundscape: Eva Ursprung
Construction: Oscar Alonso Sanchez (Rusti)
Contributors: Alexandra Gschiel, Andrea Aß, Anita Hofner, Bettina Klingenheim, Clara Gomes, Doris Jauk-Hinz, Eva-Maria Gugg, Jesper Miikman, Karla Ptáček, Katharina Aschauer, Manel Ruiz Blas, Marianne Kjær Klausen, Nguyen Hong Phat, Riad Salameh, Vicki Smith.
With thanks to Julia Varley, Nathalie Jabale and Transit Festival organisation team.