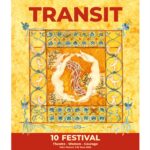 Mobilise/Demobilise will be presented at the Transit Festival, Denmark, from 6 to 12 June in the form of an installation. Using animated text, audio and mirrors, the installation will create an immersive reflective space that invites contemplation.
Thematically we are starting to explore the military aspects of the theme of "mobilise demobilise": around the world, the war machine has been mobilised and billions diverted into armaments, away from other urgent areas. Global military spending has exceeded 2 trillion US dollars for the first time., and the current war in Ukraine has created the fastest displacement crisis since WWII. Against what are we mobilising? How have we become so displaced?
Some of the material for the installation has been gathered during the Next Moves residencies, as well as from recent events and responses from our peers and communities.
The image below is from a similar installation, created by Helen and Teater InterAkt for their 2019 performance Ingen Fragen.