There's been a lot going on since Mobilise/Demobilise got moving. Here's a progress update: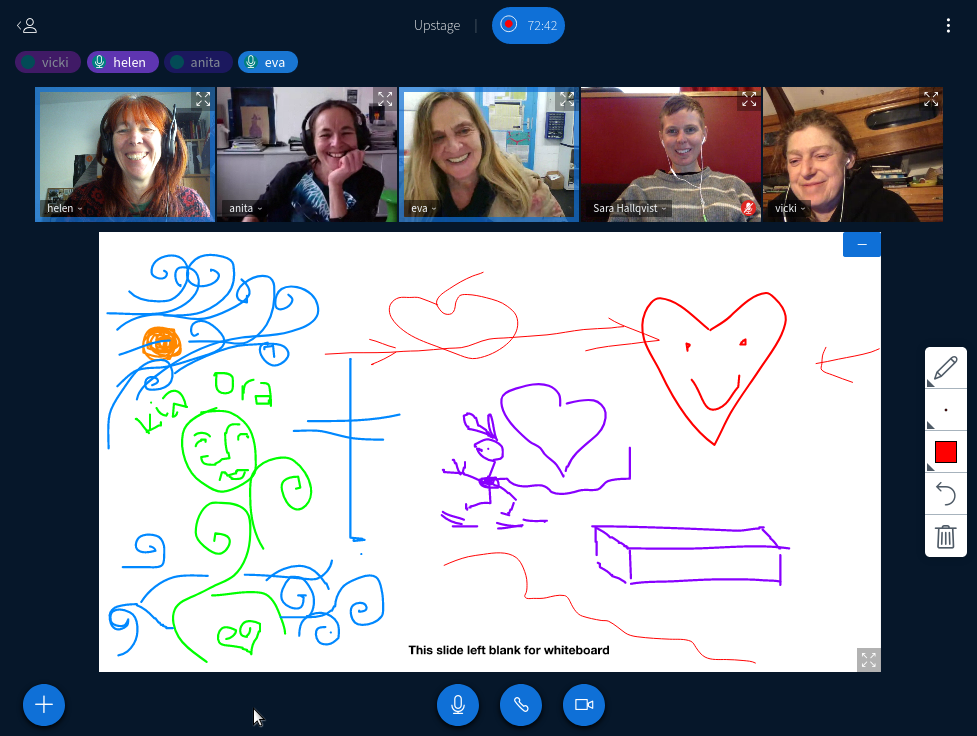 The artistic team is meeting fortnightly online, as well as local meetings in Graz and Malmö. Refining the theme has been the first step: our discussions have led us through ideas of mobility and stillness, and what one leaves behind when forced to flee, to notions of loss and mourning. We are reading "Hope and Grief in the Anthropocene" by Lesley Head, which explores how our responses to environmental challenges are hampered by solastalgia, grief for a (non-existent) pristine past, within a context where it is often socially unacceptable to grieve. Loss, grief and hope are emerging as strong responses to questions of mobility and immobility in the contemporary world.
In April we will begin working in the beta version of the new UpStage platform, with Helen Varley Jamieson coming to Malmö and Graz to lead workshops. A work-in-progress showing is scheduled for the end of June and the performance series will premiere mid-September.
The development team continues to weave its code magic with the same enthusiasm and dedication that delivered the first development milestone a week early. We're on track to undertake usability testing in the second half of March and deliver the first stable release to the artistic team at the beginning of April.
Moblise/Demobilise has been presented at several conferences and festivals, with more in the pipeline.
In connection with Mobilise/Demobilise, Eva Ursprung (Schaumbad) and Sara Larsdotter Hallquist (Teater InterAkt) have been invited by the City of Munich, in partnership with the women's theatre network Magdalena München, as artists in residence at the Villa Waldberta for the period of January to March 2022. During this time they will work with Helen on further developing their artistic work in UpStage and planning beyond Mobilise/Demobilise.
Helen has received a #TakeCare stipendium from the German Fonds Darstellende Kunst for the compilation of a handbook on "Devising with Distance", drawing together learnings from her 20 years experience in cyberformance (live online performance). This work will reference Mobilise/Demobilise and be a resource for the artistic participants, as well as being publicly available for artists generally to make use of.