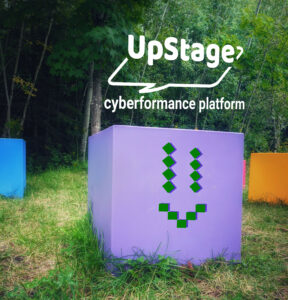 Translated from the original post in French: Publication d'une version 1 !
We are very happy to announce the first release of the new UpStage! This version will now be used by the artists who are creating the performance series on the theme Mobilise/Demobilise, to launch the rebuilt platform in October this year.
This soberly titled version R1-2021 is the result of intense work by our team of artists, developers, designers and testers! Thanks again to everyone who is contributing voluntarily to the project in their spare time. Their perseverance in testing and retesting the features as they are in development, and in giving detailed feedback and suggestions, has paid off.
Most of the essential features expected by the artists are present in R1: you can upload your own images, sounds and videos to create your show, and manipulate your media in real-time on a live stage. Other features are implemented with further development to come, such as live drawing and live text, and even more features are still in development, including streaming and text2speech voices.
We are now entering a period when artists take control of the tool for their workshops. During this time we will improve and optimize the tool so that it corresponds to their expectations, for the benefit of the public, of course!
If you want to join a nice project where we rub shoulders with technology at the service of artistic production, join us! We are always looking for dynamic and sympathetic people to participate in the various tasks: communication, documentation, translation, development. Email us at: contribute [at] upstage.org.nz