The public get their first sneak preview of the new UpStage platform during June at Bodies:On:Live, an online festival organised by the Magdalena Project. There will be two UpStage workshops, and work-in-progress presentations of two performances: Jeux de Massacre and  Mobilise/Demobilise. All three events will happen twice, to allow participation from different time zones.
The workshop is a 90 minute introduction to cyberformance and the new UpStage platform. Participants will be given a hands-on tour of the new live stage interface, and learn how to work with digital media in real time to create live performances in UpStage. The workshops are on June 9th at 9am UK time and 14 June at 8pm UK time (click on the links for registration information and time converters).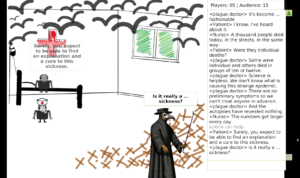 Jeux de Massacre is a cyberformance adaptation of Eugene Ionesco's dark comedy, written in 1970, in which the plague ravages a small town and everyone dies. This was adapted for cyberformance last year by Christina Papagiannouli, with Helen Varley Jamieson, Miljana Perić, Clara Gomes and Vicki Smith, and was the last performance in the old UpStage platform. Now it's being re-adapted for the new platform, and will be presented as a work-in-progress on Saturday 26th June, at 12 noon UK time and again at 8pm UK time (click on the links for registration information and time convertors).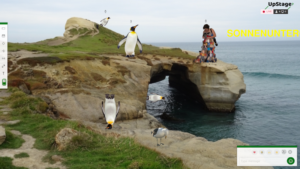 Last but not least, we will give a work-in-progress presentation of Mobilise/Demobilise! Since our workshops in Graz and Malmö in April, we have been continuing to develop our ideas and learn the new tools in UpStage. We'll show some of the materials that we've been creating and present some of our research around the theme and ideas for the performance.
The Mobilise/Demobilise presentations are on Thursday 24 June at 8pm UK time and on Sunday 27 June at 9am UK time. Click on the links for registration information and time converters.
And don't forget to check out the whole programme of Bodies:On:Live – the festival brings together women theatre and performance practitioners from around the world, some who are veterans at online performance and others who come from embodied theatre practices and never dreamed that they would be using digital technologies to share their work. The workshop programme begins on 5th June with six different workshops, and the festival programme takes place over 24-27 June.