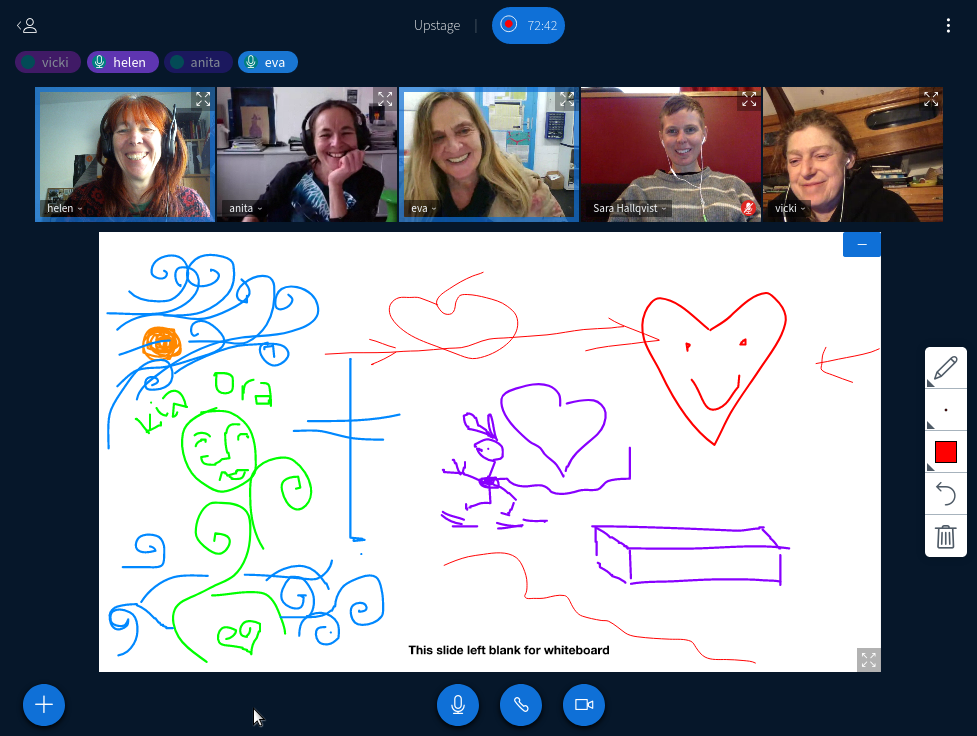 During December 2020, the artistic team began meeting to refine our theme and develop the format of the performance series. We're meeting in the open source video conferencing platform BigBlueButton, until the new UpStage platform is ready enough for us to use that.
Our theme is potentially huge: Mobilise/Demobilise "explores human mobility within the contemporary political and environmental context, including the impact of mobile technologies on human life and the environment." There are so many possible approaches to this theme that the first thing we have to do is discover which aspects of it appeal to us, and what we want to focus on. Over two long meetings, our discussions have ranged from migration and borders to the loneliness of online life and the energy consumption of mobile devices. We've exchanged anecdotes of GPS tools leading us into construction sites, and being unable to start a vehicle on a journey through Africa because the battery had been drained by charging mobile devices. Journeys, and communication along the way, has started to emerge as a possible structure for the performance series.
Through the discussions, some ideas become persistent while others begin to shift to the side. We have all previously worked on issues of migration and border crossing, and agreed that this is something that has been artistically investigated a lot already. There is also general agreement that we are less interested in exploring differences than in the things that we have in common, things that bring us together and create connection. We returned again and again to topics connected with care, as well as to the many inherent contradictions within the theme of mobility and demobilisation, and the absolute faith that we have in technology, even when it lets us down again and again.
As well as meetings, the artists from Schaumbad and InterAkt are exchanging information about their work, to learn about and inspire each other. We're doing this digitally and physically, posting information to each other – however a side-effect of the pandemic is that post offices are overwhelmed with volumes of mail and parcels much greater than the normal Christmas rush. In Graz the queues were so long that at first Eva was unable to post her material to Sweden. Eva and Anita have documented their postal adventure here on the Schaumbad website.
We're looking forward to getting our first taste of the new UpStage platform in January at our next meeting. It won't be finished, but there will be basic functionality so that we can begin to explore how we will work in it and how to create real meetings between the artists and audience – not only a sharing of information, but a deep connection.