Yesterday we gave a short presentation as part of Eva Ursprung's participation in the FluxAtARoS 2021 residency. Eva introduced the project to the proximal audience in Aarhus, then Helen and Vicki introduced in UpStage, where there were 37 in the online audience.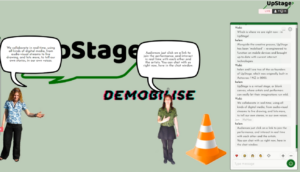 As it's been European summer holidays, the artistic team has only just started meeting and rehearsing again, so the presentation was similar to the works-in-progress we gave at the Bosies:On:Live festival at the end of June. We used the two questions, "What moves you?" and "What stops you" to gather input from the audience, and jammed using their answers and the audio and images that we created at our workshops in April.
During the June presentations we discovered a number of technical issues in the beta UpStage platform, which our dedicated developer team immediately got onto fixing. This time we didn't experience any technical problems, but identified some areas for improvement in the player interface. It's only when you have an audience and are in the moment of performance that you discover small details that are awkward or just don't function as needed. These things have been discussed with the UX team and written up on Github for the developers to address.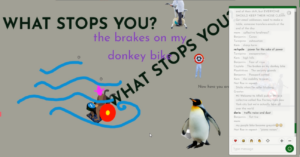 Now we're coming into the final two months before we present the performance series; the artists are gearing up to work intensely on developing the material further and shaping the performances that will be shown over the weekend 16-17 October. The developers are also still updating features, so each time we rehearse we're adapting to new icons, improvements in workflows, and so on.