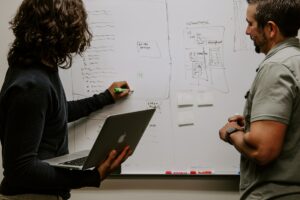 What a productive start to the year!
I am thrilled to announce that we have begun external testing of the new software with a small team of 12 volunteers. They have all had prior experience with UpStage and are enthusiastic about being involved with shaping its future.
I'd like to take a moment to thank our amazing development team for their hard work and dedication over the past 8 months.  From Gloria in the US, Phat in Vietnam, to Elisa and Riad in Europe.  Each of you has been invaluable in getting us to this point. For context, we have thus far met all of our project milestones – not only on time – but over-and-above what we had planned in terms of functionality.
So what happens now?
With our testers getting their feet wet with the new system, we change our focus primarily to stability.  We want to squash as many bugs as possible and react quickly to feedback.
We do have a few features that we would like to have in our initial release, dubbed R1-2021. Namely, streaming and speech synthesis.
Our testers have been instructed to focus on the user experience and intuitiveness of the system for the moment.  This first round of testing is all about making sure that our designers are on the right track. Of course, we are working on a user manual but hope it will rarely need to be consulted.
We are extremely optimistic that our initial release will be in the next month or so – Stay tuned