Eva Ursprung is currently in Aarhus, Denmark, for the FluxAtARoS residency, and at 20:00 CET on Tuesday 25th August will present Mobilise/Demobilise at the ARoS Museum. The presentation will include a short work-in-progress performance of the material that we are working on.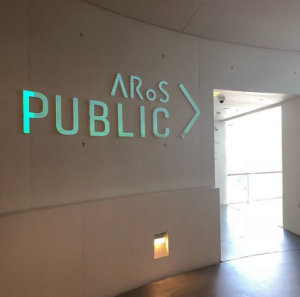 During August and September 2021, over 30 Flux artists from around the world have gathered for the third annual partnership with ARoS Public to produce events throughout Aarhus with local art spaces. Based in the "ARoS Public" atelier – an open-studio environment within the ARoS Museum – Fluxers  partner with local artists to cooperatively create new works and produce dozens of performances, installations, screenings, workshops, dance parties and more.
2021 Participants include:
Sholeh Asgary, IV Castellanos, Maureen Catbagan, Daniel Fishkin, Kalon Hayward, Tzu Huan Lin, Dew Igworia, Catalina Jordan Alvarez, Kaktus, Heather Kapplow, Cayla Lockwood, Jemila MacEwan, Georgia Muenster, Alex Nathanson, Will Owen, Noah Phillips, Nat Roe, Johanna Schwab, Nova Scott-James, Ben Seretan, Jonathan Sims, Carlos David TC, Walker Tufts,  Lee Tusman, Eva Ursprung, Moira Williams,  Kemar Wynter, Betty Yu,  and more to be announced!
Flux Factory supports and promotes emerging artists through residencies, exhibitions, and collaborative opportunities; builds sustainable artist networks; and helps retain creative forces in New York City.